To cook up your best dish for generating sales qualified leads, you need to have the right ingredients. The 2016 State Of B2B Digital Marketing Report created for the 5th year in a row by Demand Wave gives us the delicious results of 300 professionals– from top-level executives to individual contributors– at businesses spanning all sizes and industries, including software, manufacturing, healthcare, and more.
For Your Recipe You Will Need:
Quality Leads
Email Marketing
Whitepapers
LinkedIn
Responsive Website
CRM, Marketing Automation, and Smarketing
1. Make Your Rue: Define Top Objectives & Challenges
It's all about lead generation for 66% of B2B marketers for the fifth year running. Yet, it's important to note the emergence of aiming for quality leads over quantity. The largest segment of marketers (38%) are focused on delivering quality leads, while the second largest segment (28%) are going for volume.
"Measuring and proving ROI" is B2B marketers' biggest challenge for the second year running. In fact, marketers are actually finding it more and more difficult to prove ROI as time goes on. The struggle is evident in the graph below.
Luckily digital marketing software such as HubSpot can now prove your ROI by automatically generating reports for you to show your boss. This solves a big headache and helps to keep or even increase your digital marketing budget.
Here are 5 HubSpot reports that show ROI:
Sources Report. The Sources Report will help you understand what is going into the top of your sales funnel. In other words, you will get a better grasp of the source of your viewership. This will help you understand how your contacts and customers found you so can identify which marketing channels make the most sense for further investment.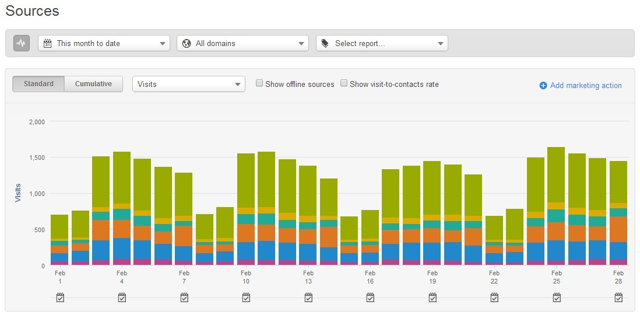 Attribution Reports. We tell you all the time how important content is, but how do you put a value on its importance? Attribution Reports are designed to help you understand which pieces of content are attributing to taking people from interested to committed, from viewer to consumer. Knowing who is converting and why will help you tighten up your content so you are focusing in the right direction.
Social Reports. Within Social Reports, you will find a number of useful tools. The Compare Platforms is an excellent option because it shows you which social media platforms are most successful and at which times. If your highest viewership is at noon on Tuesdays, it only makes sense to make this a time to target key communications because you know you will have the attention of your audience. The Reach Report is another excellent resource that lets you learn how many people you're touching with your efforts.
Campaign Reports. If you create a campaign (which we highly recommend), you will have the opportunity to analyze tons of metrics within the campaign itself. The HubSpot reports found within the campaign allow you to analyze which keywords are working, which landing pages people are finding, and more.
Lead Generation and Sales Metrics. Lead Generation should, in theory, lend itself to sales. Running the metrics and knowing what made you important enough to cough up an email address is a big deal. Further, sales metrics should be set up to identify what content is helping to influence your buyers' behavior. You can get Lead Generation reports from the Sources page and Sales metrics from the HubSpot CRM. (source: Nextiny Marketing)
Ready to see what HubSpot reports can do for you? Get an Inbound Marketing assessment today and let OUTLET prepare you for success!
2. Create The Digital Marketing Mix
Email, organic search, and social are all ingredients in this mixture. B2B marketers consider email to be the top channel for lead generation, with organic search ranking second.
Read more later about email in section 6. Marketing Technology
The quality of your website content is so important when trying to increase your organic search leads. Organic traffic boils down to providing useful content (blog, whitepapers, infographics) for your target audience, so that they'll share it with others. When you consistently do that, your organic traffic will increase each month.
A significant driver of organic traffic is social engagement. In other words, if you have an influence on social media, you can get people to share your content. In turn, that prompts search spiders to crawl, index, and rank your web page on Google.
If you want to drive organic long-term organic traffic, you've got to target long-tail key phrases. I know that you've heard this over and over, both here and on other industry blogs. But there's a reason why it's become a cliche: It works.
Here's An Example: Out of the 262,169 visitors that came to Quicksprout.com in February 2014, 238,195 came through long-tail keywords. That's a whopping 91%. (source: http://www.neilpatel.com)
3. Add Tactics
White papers are considered the most effective content marketing tactic for lead generation, but webinars finish a close second.
Interestingly, while videos take the top spot for most widely used content marketing tactic, only 29% of marketers say they generate leads and even less (18%) find they generate revenue. Videos certainly have taken a tumble from last year's report, where video was named the most effective content marketing tactic by 68% of B2B marketers.
White papers may drive more leads, but webinars claim the top spot for content marketing tactics that drive revenue.
So, how do you create your first webinar?
Stage 1: Prepare
8 weeks before the webinar
Choose a Topic – Think about your customers' problems and questions. These are the same ideas you may brainstorm for blog posts.
Choose a Speaker – Choose a presenter who can be a face of the company, someone with expertise and experience presenting (or make sure they practice). Consider also acting as a moderator to handle Q&A and make the webinar more interesting for listeners.
Choose a Date – No one date/time works for every company. Think about your target audience's time zones and choose a time you think will work for them. For example, for webinars for US attendees choose afternoon eastern time / morning pacific time.
Choose a Webinar System - For a typical webinar, you likely won't find a better value than GotoWebinar . It's inexpensive and easy-to-use and they even have a 30-day free trial so you can test it out for free for your first webinar.
GotoWebinar Functionality Overview
Broadcast type: Share desktop
Audio options: Phone and internet VOIP
Interactivity: Polls, Q&A via chat
Recording: Records screen and audio, saves WMV file to computer
Reporting: View attendee login details, Q&A and poll response details
Number of attendees supported: 1,000
Book Your Team - Make sure to get on the calendar of your selected speakers and moderators. Also, reserve a conference room or other quiet room for your event, including 1 hour before your scheduled start time and 30 minutes after the scheduled end. Your room will need, among other things (to be discussed in my next post), a phone and internet connection.
4 weeks before the webinar
Create You Webinar Slide Deck - Start with an outline and formulate an agenda. Be sure to use images - you don't want people to just sit there reading your slides instead of listening to what you have to say. Then make sure to practice your presentation and gauge the right length for the time allotted. Budget time for Q&A as well! You may also want to have pre-webinar slides at the beginning to show while attendees arrive. ( Learn some really advanced presentation tips here. )
Create Your Registration Landing Page - This will allow you to collect registrants as leads for future follow up and set them up to get reminder and follow up emails if you integrate your landing page with a system like GotoWebinar. Be sure to follow the usual landing page best practices .
Set Up Your Event with Your Webinar System - The process will be different for whichever system you use; GotoWebinar has a wizard that lets you set up your event. Set up includes scheduling your event, designating presenters who will get a special login to broadcast their audio and screens, and setting up reminder and follow up emails to automatically go to attendees.
Practice, Practice, Practice - Practice both your presentation to get comfortable with delivering the content and also the technology to make sure you know how to launch the event.
Stage 2: Promote
2 weeks before the webinar
Promote via Social Media - Let your social media following know about your webinar. Post an update to Twitter, Facebook, LinkedIn, or any other social media site where you are active.
Promote to Your Email List - Send a webinar invitation to your house email list or an appropriate segment of your leads and customers.
Promote on Your Website/Blog - Add a call to action to your webinar landing page in prominent places on your website, like your homepage. Write a blog article or two relevant to the webinar topic and include a call to action to register for the webinar to learn more.
Promote via Free Webinar Listing Sites - There are a number of free sites that let you list webinars, like webinarlistings.com and webinarhero.com . You can also find relevant industry community sites where you can post links to virtual events and webinars.
24 hours before the webinar
Remind Your Registrants - Some people will register for your event far in advance and forget that it's approaching. Be sure to remind them - you can set up a reminder email to send from a system like GotoWebinar - as you near the event, particularly 24 hours before.
Now watch the registrants roll in!
4. Sprinkle In Social
Unsurprisingly, LinkedIn is the leading social media channel for B2B marketers and LinkedIn is the #1 social network for lead generation by a long shot. Yet, it's important to note that nearly 1/3 of B2B marketers are unsure of which social channels generate leads.
Generate More Leads With A LinkedIn Company Page
Wait, you didn't know you could generate leads on LinkedIn Company Pages? LinkedIn Company Updates allow you to link to your content, drawing in hungry leads in need of good resources. Even better, your Products page has CTA capabilities! A giant, clickable image offering a product with trusted recommendations right below it? Don't mind if I do!
Read our full post on using your LinkedIn company page like a pro.

5. Layer On Mobile Responsiveness
How can you be successful if people can't read your website? Answer: You Can't! Or at least you are making it very difficult on yourself. 79% of B2B marketers say they have a mobile friendly website. B2B marketers have made significant strides in mobile over the last three years recognizing that their leads are on a variety of devices.
Most B2B marketers without mobile-friendly sites plan to fix the issue this year, however, a significant portion of marketers are on the fence with 23% unsure and 15% opting out for another year.
It is unfortunate that a quarter of these marketers have not kept up with the times. Google is now punishing sites that are not responsive by docking their ranking. This in turns finds it more difficult for your leads to find you and I know you don't want that!
6. Bind It All Together With Marketing Technology
Are your contacts going with the flow, or are they just sitting dormant in your marketing database? If you don't have any automated email workflows set up, your answer is probably the latter -- which means you're missing out on some major opportunities to nurture and engage your existing contacts.
Did you know that B2B marketers who implement marketing automation increase their sales pipeline contribution by an average of 10% according to a report by Forrester? But wait ... there's more.
Lead nurturing campaigns aren't the only type of email marketing automation you can use to get more out of your contacts database. Think about the contacts who are already your customers. Email automation can not only help you convert leads into customers, but it can also help your sales department delight your existing customers and encourage activity like greater product adoption, upsells, evangelism, and additional purchases.
If you hadn't already guessed, email workflows need to be set up using marketing automation software. Different software providers will have different features and functionality, but the concept of marketing automation is pretty universal.
If you're using HubSpot's Workflows App, for example, you can create personalized, automated email workflows that can get triggered in a number of different ways -- when a contact gets added to a list, submits a form on your website, clicks a link in an email, views a page on your blog, clicks on one of your AdWords ads, or becomes a marketing qualified lead.
You can also set up email workflows based on any information you have about the contacts in your marketing database, such a page views, email or social media clicks, content downloads, contact properties, or any combination of these and more. That's some pretty powerful stuff! (source: HubSpot Blog)
Marketing can most effectively hand-off qualified leads to sales so that they can be closed into customers in the "close phase" of the inbound methodology. This hand-off is referred to as Smarketing. Smarketing can increase bottom line revenue results for organizations by creating productive relationships between sales and marketing. In fact, companies with these two departments aligned saw a 20% increase in sales growth over the course of a year. Companies not jumping on the smarketing bandwagon tend to see a decrease in sales growth.
Read more about sales and marketing alignment.
Overall, while most marketers (55%) feel they are aligned with Sales, the fact that 50% of marketers lack a sales-qualified lead goal suggests otherwise. Let's work to bridge the gap in 2016. A more harmonious cross-departmental relationship will surely benefit both sides.
Whew! You made it! Now you are ready to put this dough in the oven and watch it rise. If your company needs help with your digital marketing you may contact OUTLET for a FREE inbound marketing assessment.
source: 2016 State of B2B Digital Marketing
---
We Handle Social Media Marketing & Advertising.